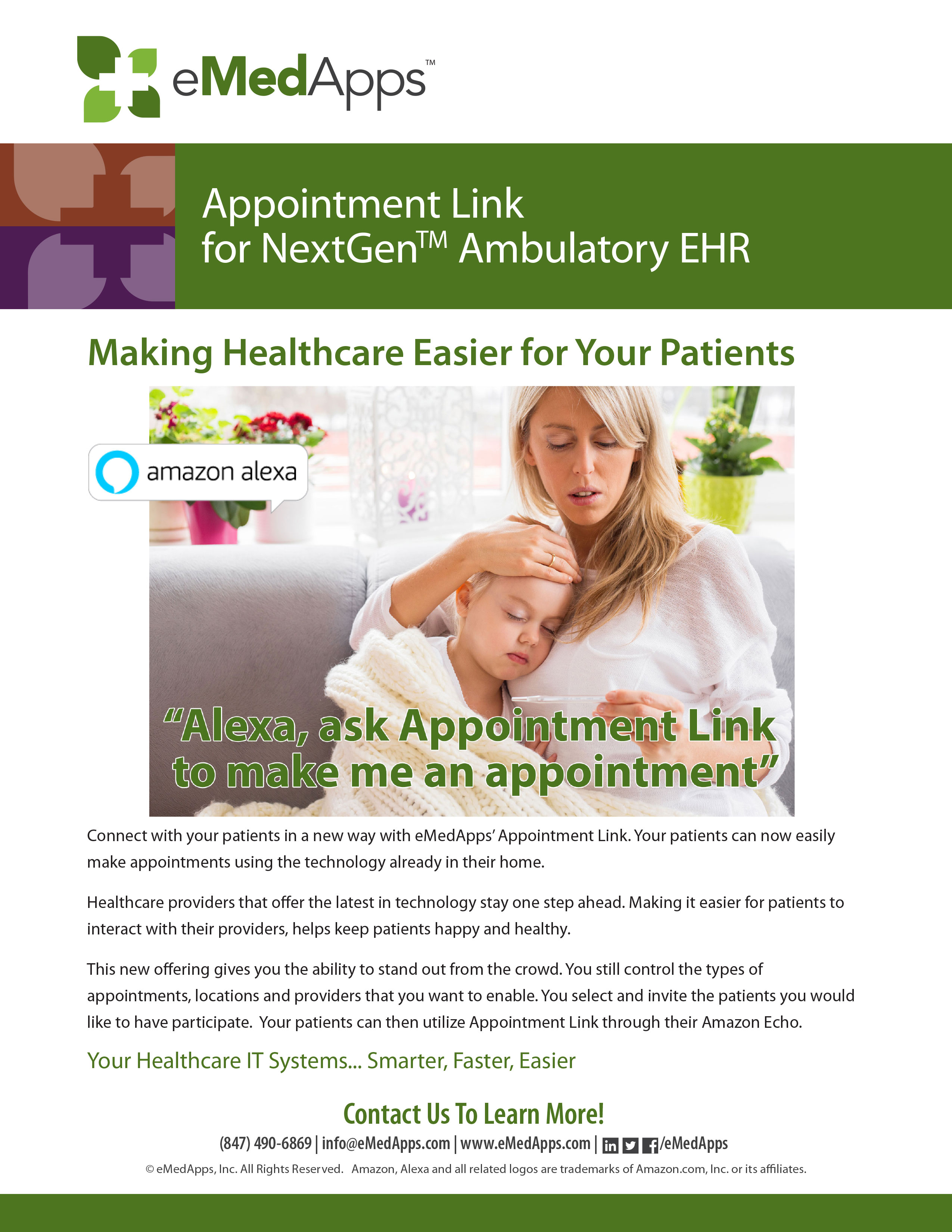 Appointment Link
This new offering gives you the ability to stand out from the crowd. You still control the types of
appointments, locations and providers that you want to enable. You select and invite the patients you would like to have participate. Your patients can then utilize Appointment Link through their Amazon Echo.
Data Migration
EHR conversions and data migrations are critical during mergers, acquisitions, and other transitions.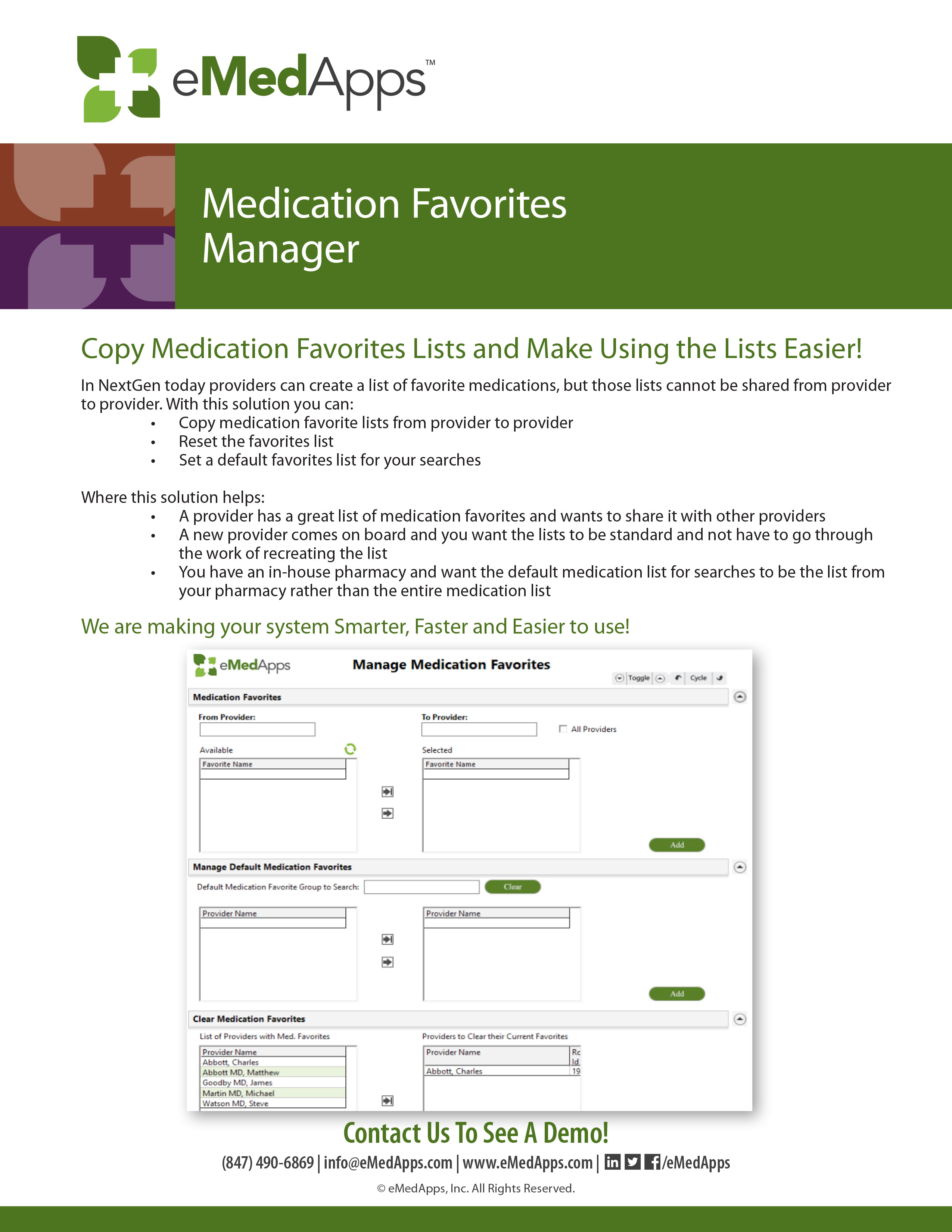 Medication Favorites Manager
Copy Medication Favorites Lists and Make Using the Lists Easier!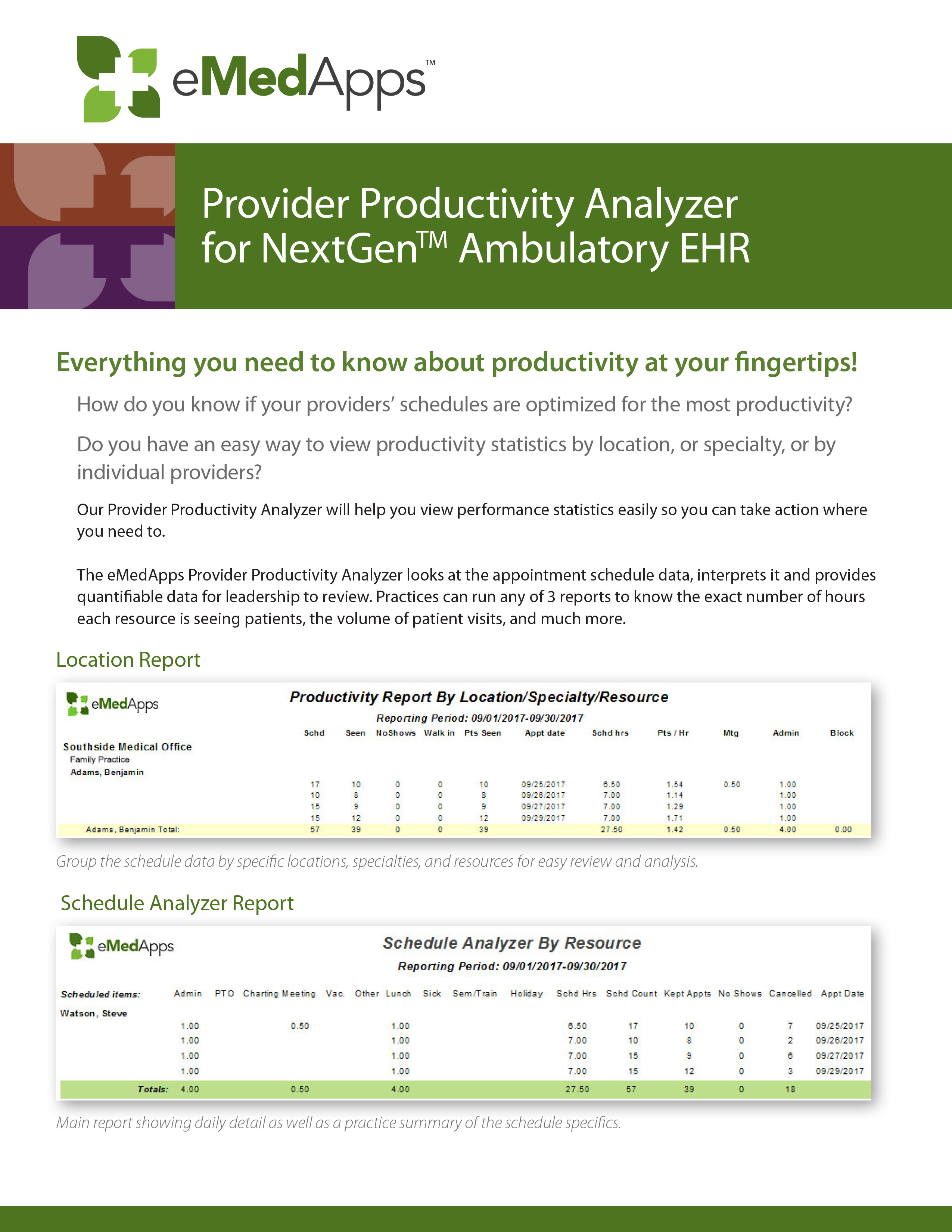 Provider Productivity Analyzer
The eMedApps Provider Productivity Analyzer looks at the appointment schedule data, interprets it and provides quantifiable data for leadership to review. Practices can run any of 3 reports to know the exact number of hours each resource is seeing patients, the volume of patient visits, and much more.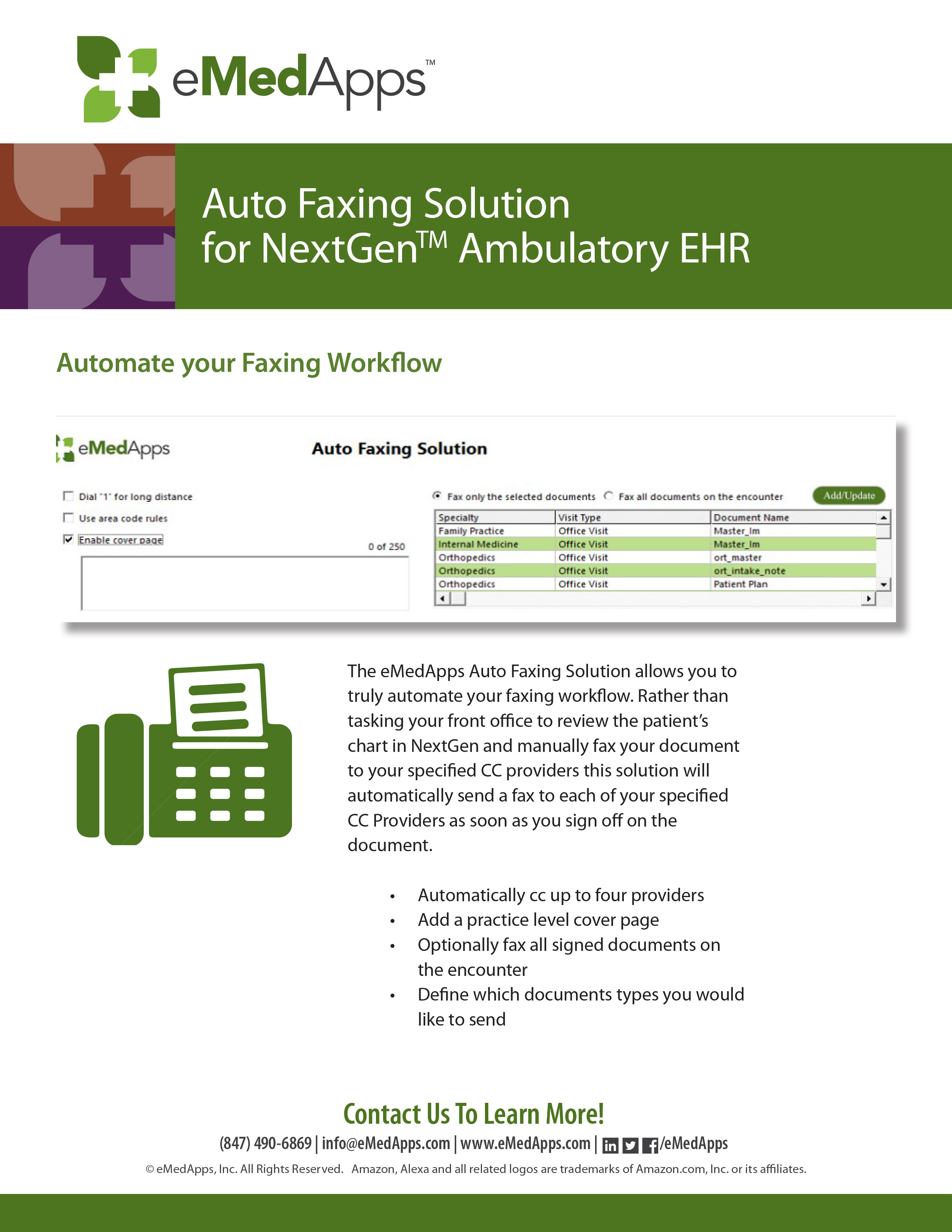 Auto Faxing Solution
The eMedApps Auto Faxing Solution allows you to truly automate your faxing workflow. Rather than tasking your front office to review the patient's chart in NextGen and manually fax your document to your specified CC providers this solution will automatically send a fax to each of your specified CC Providers as soon as you sign off on the document.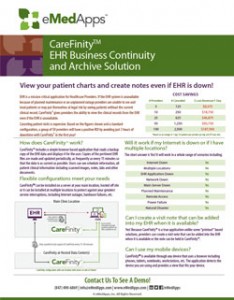 CareFinity™ EHR Business Continuity and Archive Solution
EHR is a mission critical application for Healthcare Providers. If the EHR system is unavailable because of planned maintenance or an unplanned outage providers are unable to see and treat patients or may put themselves at legal risk by seeing patients without the current clinical record. CareFinity™ gives providers the ability to view the clinical records from the EHR even if the EHR is unavailable.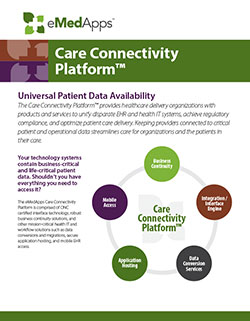 Care Connectivity Platform™
The Care Connectivity Platform™ provides healthcare delivery organizations with products and services to unify disparate EHR and health IT systems, achieve regulatory compliance, and optimize patient care delivery.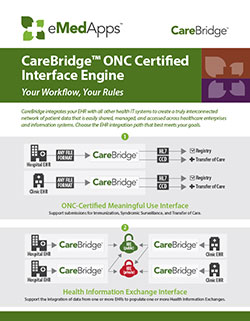 CareBridge™ ONC Certified Interface Engine
CareBridge integrates your EHR with all other health IT systems to create a truly interconnected network of patient data that is easily shared, managed, and accessed across healthcare enterprises and information systems. Choose the EHR integration path that best meets your goals.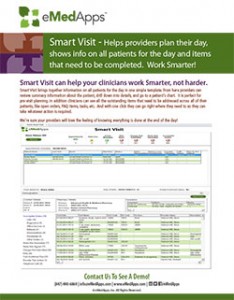 Smart Visit – Helps providers plan their day, shows info on all patients for the day and items that need to be completed. Work Smarter
Smart Visit brings together information on all patients for the day in one simple template. From here providers can review summary information about the patient, drill down into details, and go to a patient's chart. It is perfect for pre-visit planning. In addition clinicians can see all the outstanding items that need to be addressed across all of their patients, like open orders, PAQ items, tasks, etc. And with one click they can go right where they need to so they can take whatever action is required.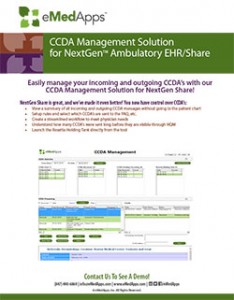 CCDA Management Solution for NextGen™ Ambulatory EHR/Share
Easily manage your incoming and outgoing CCDA's with our CCDA Management Solution for NextGen Share!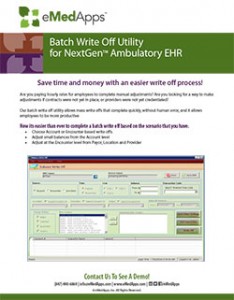 Batch Write Off Utility for NextGen™ Ambulatory EHR
Are you paying hourly rates for employees to complete manual adjustments? Are you looking for a way to make adjustments if contracts were not yet in place, or providers were not yet credentialed? Our batch write off utility allows mass write offs that complete quickly, without human error, and it allows employees to be more productive.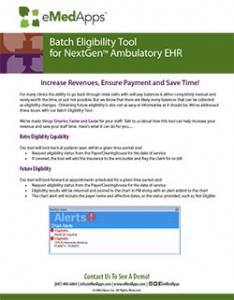 Batch Eligibility Tool for NextGen™ Ambulatory EHR
For many clinics the ability to go back through older visits with self-pay balances is either completely manual and rarely worth the time, or just not possible. But we know that there are likely many balances that can be collected as eligibility changes. Obtaining future eligibility is also not as easy or informative as it should be. We've addressed these issues with our Batch Eligibility Tool. We've made things Smarter, Faster and Easier for your staff! Talk to us about how this tool can help increase your revenue and save your staff time. Here's what it can do for you…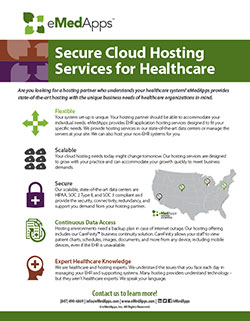 Secure Cloud Hosting Services for Healthcare
Are you looking for a hosting partner who understands your healthcare system? eMedApps provides state-of-the-art hosting with the unique business needs of healthcare organizations in mind. Ask us about insourced hosting, outsourced hosting, and hybrid hosting models.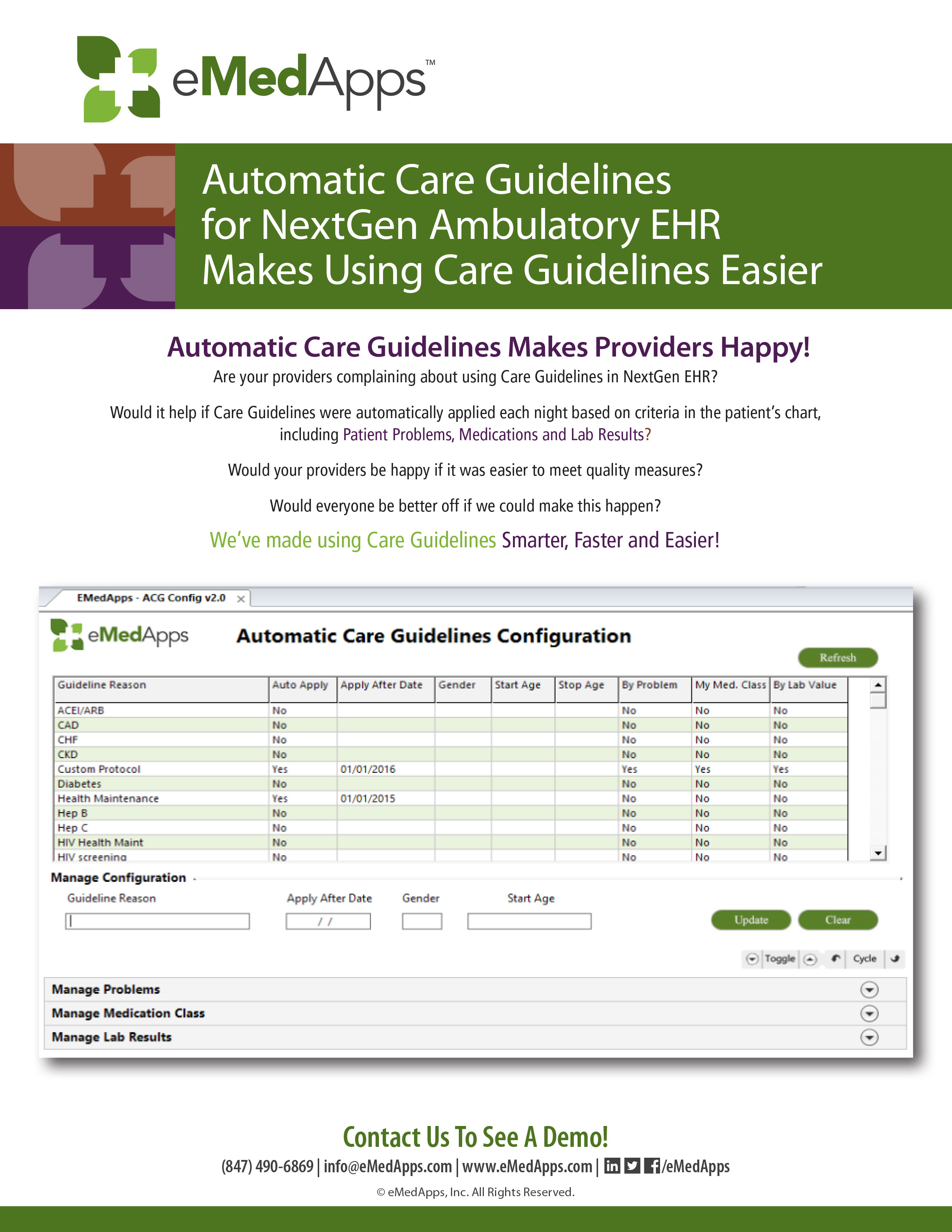 Automatic Care Guidelines for NextGen Ambulatory EHR Makes Using Care Guidelines Easier
Automatic Care Guidelines Makes Providers Happy. We've made using Care Guidelines Smarter, Faster and Easier!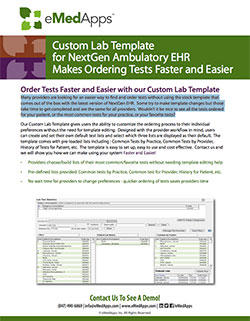 Custom Lab Template for NextGen Ambulatory EHR Makes Ordering Tests Faster and Easier
Many providers are looking for an easier way to find and order tests without using the stock template that comes out of the box with the latest version of NextGen EHR. Some try to make template changes but those take time to get completed and are the same for all providers. Wouldn't it be nice to see all the tests ordered for your patient, or the most common tests for your practice, or your favorite tests?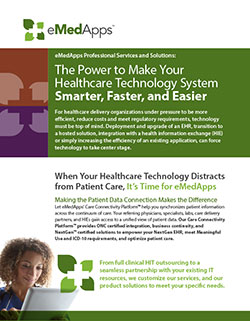 eMedApps Professional Services and Solutions Overview
From full clinical HIT outsourcing to a seamless partnership with your existing IT resources, we customize our services, and our product solutions to meet your specific needs.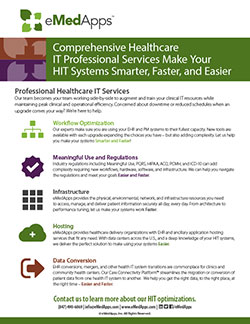 eMedApps Professional Healthcare IT Services
Our team becomes your team working side-by-side to augment and train your clinical IT resources while maintaining peak clinical and operational efficiency. Concerned about downtime or reduced schedules when an upgrade comes your way? We're here to help.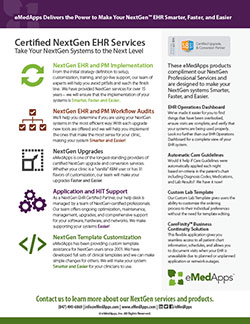 eMedApps Certified NextGen EHR and PM Services
Take Your NextGen Systems to the Next Level. eMedApps delivers NextGen Certified Solutions including EHR/EPM support, application/KBM upgrades, template development, workflow audits, MU compliance audits, and hosting. We'll make your NextGen EHR Smarter, Faster, and Easier, today.