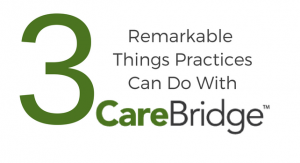 There is so much talk about data sharing and the lack of EHR interoperability in the news. Did you know that CareBridge integrates your EHR with all other health IT systems to create a truly interconnected network of patient data that is easily shared, managed and accessed across healthcare enterprises and information systems? Our clients use this powerful tool all day, every day, right now. Simply choose the EHR integration path that best meets your goals and let CareBridge make the connection.
Leading healthcare systems use CareBridge in surprising ways. Think about integration as a series of steps along the path to modernizing your approach to EHR nirvana.
Share Data. Use CareBridge for data sharing and synchronization with HIEs and public reporting agencies. Northern Physicians Organization uses CareBridge to keep pace with admissions, and they leverage the same tool to reduce readmissions. CareBridge is the technology that enables this improved workflow. eMedApps customized this powerful tool to fit the NPO use case. CareBridge intelligently routes care data flowing from network hospitals to NPO. This solution connects approximately 90 hospitals in Michigan sharing data among nine different EHRs.
Exchange Data. CareBridge provides medical device interoperability and data exchange right now. For example, CareBridge is being used to gather data from implantable devices such as pacemakers and ICD's. This data is collected from patient's homes as well as clinic and hospital visits via the CareBridge interface. The device data is delivered to applications such as the portal from Geneva Healthcare which allows providers in clinics, hospitals, and even patients to see status information about the devices as well as any episodes that have occurred across an easy-to-view timeline of events. This data is critical when patients present at an emergency department where the portal can be accessed. Using CareBridge the data can be made available through the Geneva portal as well as through the provider's EHR system. An alert system notifies providers of any episodes detected by the devices, allowing for proactive follow up helping to avoid larger health issues.

Communicate Efficiently with Intelligent Interfaces. The Massachusetts League of Community Health Clinics uses our powerful, flexible interface engine to facilitate standards-based health data exchange workflows that support traditional and non-traditional care settings such as community center programs and YMCAs. CareBridge delivers connectivity across any healthcare system.
Vik Sheshadri, eMedApps vice president of product development, puts it this way, "Working across the healthcare landscape, we see providers struggling with technology integration and data interoperability, often using multiple applications for their integration. We've taken an integrated approach, providing vendor-neutral modules that work together cohesively. Providers choose our solutions to solve data exchange, integration and hosting problems without adding complexity or service fees."
eMedApps' point of view has always been your workflow, your rules. Not sure what data you need? Our healthcare IT consultants have the clinical domain knowledge to help you leverage the data that is essential to your specific workflow, patient interaction, and business goals.
To learn more about eMedApps' CareBridge ONC-certified solution or to schedule a demo, contact us today.