The global market for Wearable Medical Devices (WMDs) is projected to reach US $11.18 billion by 2020 with unit shipments hitting a 35% CAGR. This explosive growth will directly impact the EHR market boosting it to over $28 billion by 2020.
According to research firm Technavio, as a category, Wearable Health Devices is a key growth area impacting the EHR market and contributing to a 5% CAGR. In fact, healthcare CIOs interviewed this year by Information Week noted that "data collection by fitness and other healthcare devices is a significant emerging trend for IT healthcare."[1]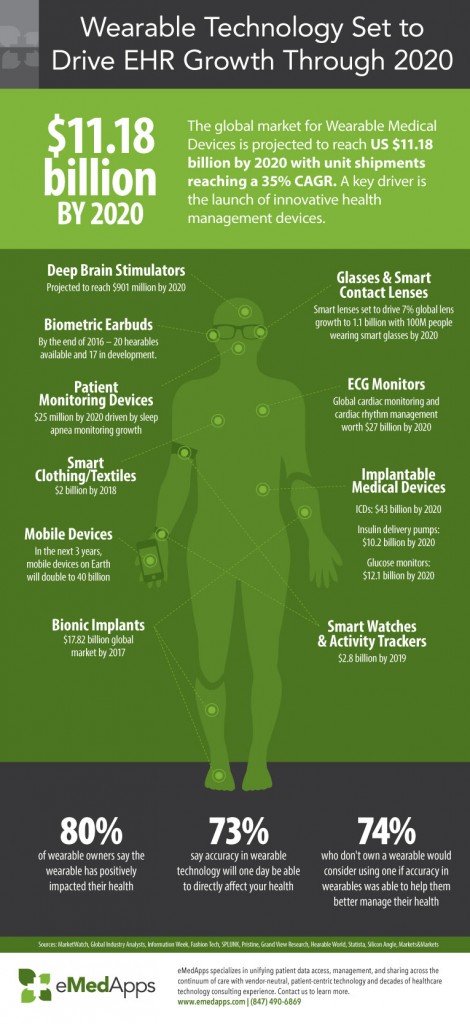 We decided to take a closer look at Wearable Medical Devices to break down the numbers. This infographic calls out a dozen wearables poised to take EHR to nearly $30 billion in the next five years, including:
Biometric Earbuds: Your iPhone 7 may be prodding you toward wireless earbuds, but companies with advanced technology including Valencell, are putting innovation in your ear. Heart rate, body temperature, blood pressure and VO2 will be easily calculated, captured and displayed. By the end of 2016, 20 new "hearables" will be available with 17 more in the development pipeline.
Glasses and Smart Contact Lenses: Smart lenses are set to drive 7% global lens growth to 1.1 billion with 100 million people wearing smart glasses or lenses by 2020. Smart contact lenses are being designed today to offer super-human vision with heads-up displays, video cameras, medical sensors and more.
Implantable Medical Devices: Devices like implantable cardiac defibrillators (ICDs), insulin delivery pumps and glucose monitors are readily available and experiencing significant growth. These devices can now be accessed wirelessly, tracked through wearable devices and automatically monitored through telemedical remote systems.
Smart Watches and Activity Trackers: Not just for runners and triathletes, activity trackers and smart watches are ubiquitous. With a market projected to eclipse $3 billion by 2020, watch this space for greater EHR integration, analytics and reporting.
What are patients saying about wearables?
When surveyed, 80% of wearable owners say the device has positively impacted their health.
A full 73% say accuracy in wearable technology will one day directly affect their health, and 74% of those who don't own a wearable would consider using one if accuracy could help them better manage their health.
View the full-size infographic.
[1] Jessica Davis, "Predictive Analytics, Wearables Data Driving EHR Growth", InformationWeek, 7/6/2016.