Part 2 of our 3-part guide to EHR hosting is all about Outsourced Hosting. As we noted in Part 1: Insourced Hosting Demystified, hosting isn't just for the "big guys". Think your physician practice or clinic is too small to consider hosting? Whether hosting is "insourced", "outsourced" or combines these two delivery models into a hybrid approach, today's secure hosting solutions reduce operating expenses allowing continuous, dedicated management and web-enabled updates of your mission-critical health IT applications and patient data.
Through this 3-part hosting blog, we're reviewing the three most common hosting types and we're answering a few of your questions along the way. Next up, outsourced hosting.
Outsourced Hosting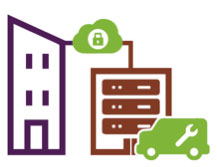 Also called remote hosting, hosted off-premise, and cloud hosting, outsourced EHR hosting locates your critical EHR/PM applications in a datacenter facility – outside of your LAN-based practice or clinic. EHR and patient data is stored on remote servers accessed via secure Internet connections. Fully outsourced remote hosting shifts the expense of procuring, managing and maintaining your EHR application and servers from your facility and your IT team to a fully managed datacenter. Servers are owned, managed and refreshed by the hosting company.
Remote cloud hosting has significantly changed the face of the software industry and is growing in healthcare spurred by a demand for anytime-anywhere patient data access, downtime avoidance, disaster recovery, and a desire to leverage technology to increase efficiencies.
Healthcare Turns to Cloud and Hosting Alternatives
Adoption of cloud computing, including hosted off-premise solutions, to facilitate data sharing and interoperability is estimated to grow nearly 300 percent from 2015 to 2020

[i] reaching 10 billion USD. In addition to the demand for healthcare "big data" storage, market analyst MarketsandMarkets notes that the type of healthcare data collected and the way that data is collected is also driving cloud adoption.

[ii]

Increasing penetration of smart gadgets, increasing utilization of connected medical devices and use of mHealth apps in the management of chronic diseases is driving the expansion of cloud solutions for data capture and central storage where it can be more easily loaded, accessed, and shared.

Outsourcing the management of your EHR application infrastructure saves time, expense, ongoing management headaches, and allows you to focus on your primary goals – patient care, improved patient satisfaction, and improved practice and business management. In fact, 89 percent of practices replacing their EHRs prefer vendors that offer software, outsourcing, and consulting options for their EHR/ RCM/PM transformation.[iii] In effect, practices are seeking outsourced hosting solutions for more than EHR, they are actively considering outsourced hosting solutions for practice management and revenue cycle management.

Pro:

Healthcare organizations can save thousands of dollars in capital costs by having their EHR infrastructure hosted. Initially, some practices may prefer to own their internal servers – but purchasing, maintaining and updating servers every 3-5 years isn't a core competency for most small to mid-sized healthcare providers.

Outsourcing their health IT infrastructure

allows these organizations to focus on their providers and patients and the core goals of delivering healthcare services efficiently, effectively, securely and compliantly.

Pro:

Uninterrupted,

on-demand access to patient data

improves

business continuity

. Without interruption cloud-based EHRs are always available and aren't subject to a single point of failure like a local client-server model may be. Datacenters provide redundancy, 24×7 remote access, and are subject to all the same security protocols that must be adhered to in an on-premises model. Many healthcare providers prefer remote hosting solutions so that protected patient health information or PHI, no longer resides on local servers.

Con:

Support for remote locations continues to be a challenge for some providers. Consistent, high-speed internet availability may create real create limitations for practices located in remote or rural locations. Healthcare application outsourcing is also unlike website outsourcing, email outsourcing or other more traditional administrative application outsourcing. Hosting vendors must have experience and expertise to smoothly transition your practice from an onsite client-server solution to a fully hosted, outsourced solution. Carefully evaluate your hosting provider before signing on the dotted line – lack of compliance with the HIPAA and other applicable security regulations will be a true showstopper.
Key Takeaway
Outsourcing management of your EHR application infrastructure to a trusted partner saves time, expense, ongoing management headaches, and allows you to focus on your primary goals – patient care, improved patient satisfaction, and improved practice and business management. Whether you choose insourced hosting, outsourced hosting or a hybrid hosting model, eMedApps can help. Let our hosting experts review options with you today. Contact us for more information.

Next up in our hosting series: Hosting Demystified – Part 3, Hybrid Hosting Models

If you missed part one of our series, check it out here: Hosting Demystified – Part 1: Insourced Hosting
---
[i] iHealthBeat. Health Care Cloud Computing Market to Grow, Experts Weigh In. October 2015. Available at: http://www.ihealthbeat.org/articles/2015/10/27/ health-care-cloud-computing-market-to-grow-experts-weigh-in. Accessed on: December 1, 2015.

[ii] MarketsandMarkets.com. mHealth Solutions Market by Connected Devices, Apps, Services (Remote Monitoring, Consultation, Prevention) – Global Forecast to 2020. November 2015. Available at: http://www.marketsandmarkets.com/ Market-Reports/mhealth-apps-and-solutions-market-1232.html. Accessed on: December 2, 2015.

[iii] Black Book. Cloud-Based EHRs with Integrated Billing Solutions May Save Thousands of Independent Physicians from Acquisition. 2013. Available at: http:// www.prweb.com/releases/2013/9/prweb10926496.htm. Accessed on: December 17, 2015.