Part 3 of our 3-part guide to EHR hosting is all about a combination of hosting models called Hybrid Model Hosting. As we noted in Part 1: Insourced Hosting Demystified, and Part 2: Outsourced Hosting Demystified hosting isn't just for the "big guys". Think your physician practice or clinic is too small to consider hosting? Whether hosting is "insourced", "outsourced" or combines these two delivery models into a hybrid approach, today's secure hosting solutions reduce operating expenses allowing continuous, dedicated management and web-enabled updates of your mission-critical health IT applications and patient data.
Through this 3-part hosting blog, we're reviewing the three most common hosting types and we're answering a few of your questions along the way. Next up, hybrid model hosting.
Hybrid Model Hosting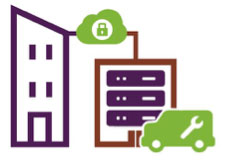 Also called hosted client/server in the cloud and managed hosting, this model allows your organization to place your servers into a secure datacenter. This hybrid model between insourced hosting and outsourced hosting allows your organization to leverage existing capital investments in servers and investments in EHR application licenses, but moves the ongoing management and maintenance of this infrastructure investment to an internet accessible, secure remote site. Rather than installing and managing your application on a server in your office, the installation is managed on your servers in a controlled data center environment. Your users log into a remote computer through a web browser.
Remote cloud hosting has significantly changed the face of the software industry and is growing in healthcare spurred by a demand for anytime-anywhere patient data access, downtime avoidance, disaster recovery, and a desire to leverage technology to increase efficiencies.
Pro:
No local management of servers or applications is needed. Through your application service provider or managed services provider, your EHR and application data are managed remotely and are always available.
Con:
Management service fees may be higher than in-house costs, but recurring hardware fees and maintenance fees may be lower. You may have the option to service and maintain hardware directly or through your hosting vendor.
Be aware of potential integration issues of systems like patient communication and engagement, billing and payment systems, etc. unless those systems are bundled together with your EHR.
A Word on Compliance and Regulatory Considerations
Before you sign any hosting contract, make certain that your EHR hosting partner is an EHR application expert, has demonstrable hosting expertise, and meets all regulatory and security protocols. While this
may seem obvious, note that no matter which type of hosting solution you consider or eventually adopt, your hosting provider and their facilities must meet all physical, procedural, operational, and technical readiness criteria established for hosting of protected healthcare data. Make certain to evaluate partners for compliance with all HIPAA/HITECH rules and, for outsourced or hybrid solutions, SOC 2 Type II and SOC 3 centers with certificates including: PCI DSS Level 1 and SSAE 16.
Your EHR hosting vendor should offer scalability, flexibility, security, redundancy, compliance, and affordability to your organization's patient care operation.
Key Take-away
Hybrid model hosting of your EHR application infrastructure to a trusted partner saves time, expense, ongoing management headaches, and allows you to focus on your primary goals – patient care, improved patient satisfaction, and improved practice and business management. Whether you choose insourced hosting, outsourced hosting or a hybrid hosting model, eMedApps can help. Let our hosting experts review options with you today. Contact us for more information.
If you missed part 1 of our series, see it here: Hosting Demystified – Part 1: Insourced Hosting
And if you missed part 2, read it here: Hosting Demystified – Part 2: Outsourced Hosting