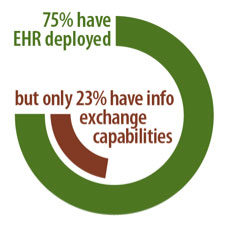 This week we begin a 5-part blog series dedicated to exploring some of the most common EHR challenges providers and their teams are facing. While nearly 75 percent of care delivery organizations have deployed an EHR, only about 23 percent have information sharing capabilities that enable patient record capture, reference and exchange.

[i] For many practices, clinical workflow, regulatory adherence, support of mobile communication platforms, patient communication and cross-team care communication and information exchange are challenges that require additional support.

Through this blog series, we're reviewing these common challenges in greater detail. We'll offer tips and practical steps teams can take today to help "move the EHR ball forward" and solve key productivity problems in 2017.

In this post, we offer an overview of five key challenges. Check back for detailed discussions of these and other topics in the next few weeks. If you're planning to attend HIMSS 2017 in Orlando, stop by the eMedApps booth (#5187) and we'll show solutions designed to solve these and other EHR challenges.
Challenge #1: Clinical Workflow and Support for Clinical Mobility
Mobile device adoption continues to expand, but tight integration with clinical workflow challenges providers and their IT teams. Clinicians use 6.4 mobile devices per day on average[ii] and supporting a clinical workflow that includes secure, compliant access to patient data on mobile platforms is a "must have" in 2017.
Challenge #2: Regulatory Requirements Adherence and Attestation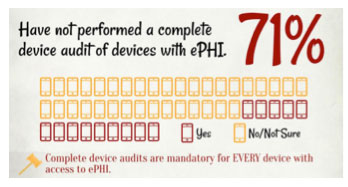 A survey of practices found a significant gap exists between deployment of the EHR and compliant use, management, access and sharing of the patient data stored on the EHR.[iii] 2017 will bring additional regulatory requirements including CMS reporting and reimbursement rules (MACRA and MIPS), and continued staff attestation for HIPPA policies and procedures. We'll examine these key requirements and ways you and your staff can get ahead, and stay ahead, of regulatory requirements.
Challenge #3: Transitioning to a Value-based Compensation Model
Measuring value, transitioning to new contracts and having the people and technology in place to enable this new model are all challenges. According to a 2016 Xerox survey,[iv] providers need additional support to manage value-based care contracts. Key support areas include analytics and technology.
Challenge #4: Communication Between Patients and Providers
Better doctor-patient communication leads to better healing. Healthcare providers should consider these statistics when meeting with patients: 27 percent of patients didn't know who was in charge of their case while they were hospitalized, yet 81 percent of patients and 71 percent of doctors think communication makes a difference in care outcomes.[v] This shows a significant communication gap between what care participants want and what they receive/deliver.

This challenge confounds practices large and small as patient portals and healthcare communication apps are surfaced to improve patient-provider information sharing. The EHR is central to this connection and we'll explore how you can improve the communication connection.
Challenge #5: Care Community Communication
Related to Challenge #4, this care community communication involves cross-provider connections. A growing community of care will need to have a more consistent conversation to ensure that the patient is in the center of the discussion. Only 35 percent of specialists reported receiving patient information from the referring primary care doctor before an appointment, even when the PCP reported sending patient information. Conversely, only 62 percent of PCPs reported receipt of the specialist's report following a patient encounter.[vi]

Can the EHR facilitate a care discussion and put everyone on the same care "page"? We'll show you how eMedApps is approaching this challenge with forward-thinking solutions to this growing communication challenge.

Whether you are experiencing one of these challenges, or need assistance with another EHR or health IT interoperability, hosting or business continuity concerns, the eMedApps team can help. Let our experts review options with you today. Contact us for more information.

———————————–
[i] American Hospital Association. 2015. Why Interoperability Matters. Washington, D.C., 10/6/15.

[ii] CDW Healthcare, Trends in Clinical Mobility, March 2014.

[iii] The Compliancy Group, 2015 Survey, "Meaningful Use vs. HIPPA", 1/28/15.

[iv] Xerox, Survey, "Providers are Uncomfortable with Risks of Value Based Care", 2016.

[v] Findatopdoc.com. Infographic, published 2015.

[vi] Archives of Internal Medicine.