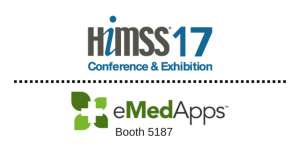 Right Data. Right Place. Right Time.
We've Got You Covered.
HIMSS17 – Booth #5187
Wish you could guarantee interruption-free access to patient data? EHR outages or scheduled maintenance. Network failures. Power failures. Patient health needs don't stop just because you're having IT problems. So, what's your Plan B?
Come by Booth #5187 at HIMSS to find out how eMedApps can help. Our CareFinity® solution puts your patient data at your fingertips when and where you need it.
EHR down? Just click the CareFinity® icon and you're up and running.
Network down? Just launch CareFinity®.
Power out? Grab your mobile device and launch CareFinity®.
We've got you covered.
Stop by our HIMSS17 Booth #5187 to learn more and enter to win a $250 gift card.
Monday, February 20th
11:45am: CareFinity: Business Continuity and Archiving
4:15pm: CareBridge Interface: Enabling Legacy Applications with FHIR
Tuesday, February 21st
11:15am: CareBridge Interface: Overview with Message Builder
3:45pm: CareBridge Interface: Use Cases
Wednesday, February 22nd
11:15am: CareFinity: Business Continuity and Archiving
2:30pm: CareBridge Interface: Enabling Legacy Applications with FHIR
Save at HIMSS17
Get CareFinity free with Application Hosting
20% off NextGen Productivity Products
10% off CareBridge Interface Products
10% on CareFinity for GE Centricity Users
Note: Contracts must be signed and submitted by March 31, 2017