With this being Nurse Appreciation Week we thought it might be nice to hear from a new Nurse working on the front-lines who has just finished her Bachelor of Science Nursing (BSN). Caitlin Cernik decided on a career in nursing after high school and she started her journey at Loyola University in Chicago in 2016. Having just finished her BSN, the next steps are to take the NCLEX exam. As a part of her training she's been working as a PCT at a hospital in a suburb of Chicago. With the ever evolving pandemic, she has been thrust in to high gear and has gained a tremendous amount of experience in a short amount of time. She is hardworking, dedicated and oh yes, she happens to be my daughter! Since there was no graduation ceremony so far (it was supposed to be last week) I thought a little bragging from Dad might be good. Congratulations Caitlin!  Take a look at our interview below:
How does it feel to have completed the nursing program?
It feels great to be finished with the program and to see that my hard work has paid off. It is a bittersweet feeling to know that I've finished my undergraduate experience, but I'm proud of myself and excited for what is to come!
You've been working as a PCT at a hospital in a Chicago suburb. What was it like before the pandemic and what has it been like since this all started?
As a PCT before the pandemic, the hospital was busy, and I always had a lot to do. Since the pandemic began, I've definitely developed a higher sense of vigilance while working with patients. For example, a low-grade temperature in any patient is now taken much more seriously and cautiously than it would have been before the pandemic, and we now wear masks continuously during the entire shift. At the entrance to the hospital, we are each asked whether we have experienced any of the virus symptoms, and our temperatures are taken. When we are given the OK, we are handed one surgical mask which we use for the whole shift. Overall, I continue to take the proper precautions while being extremely careful to clean all of my items before I leave the unit.
Just as things started up with COVID-19 and before the gravity of the situation was clear to the general public you were given a briefing at the hospital.  Can you share what they told you at that time?
Yes, there were a lot of different predictions going around at the time that COVID-19 began to escalate in Illinois. We were told by a hospital resource that around 80% of the staff at our hospital would most likely get it or be exposed, and that was really frightening to me. The hospital representative also said that there would be a large number of deaths and hospitalizations and that the empty college campuses might be used for overflow. The idea that campuses would be turned into to overflow hospital rooms was very hard for me to believe at the time…and now they've turned McCormick place into an overflow area! At the same time I received the notice that Loyola would be moving to an online platform for the remainder of the term, I definitely came to the realization that this would become a major situation that was unchartered territory for all of us.
The policies and protocols changed with the additional knowledge and findings that occurred as COVID-19 evolved. We were sent emails with new information as soon as it was discovered, and the algorithms are still changing day by day. My hospital has a resource online for employees that keeps us updated on the statistics within our system, as well as any changes to procedures and protocols based on the area of care that we are involved in. I usually view the page once a day to keep myself in the loop!
 Have you had any contact with COVID patients?
No. The hospital tries to limit the staff exposure to COVID patients, and since I am part of the resource team, I have not been floated to work directly with any of them.
How are the medical providers you have worked with dealing with the stresses of the COVID situation?
Most of the staff I've worked with are brought together even more by this situation. Most popularly it is bonding over and enjoying the copious amounts of food that people have generously donated to the hospital!
Have you been tested for COVID-19?
Yes. My roommate and I (both PCTs) were instructed to drive through a more secluded entrance to the hospital. A healthcare worker came out and swabbed us both (quite aggressively), and luckily it came back negative!
The Covid-19 Pandemic began during your final months as a nursing student. What effect has this pandemic had on your final months?
Unfortunately, a lot of important and exciting events have been cancelled since the pandemic begun. My final clinical transition experience was cut short, as well as various senior events (both nursing and university-wide), my honors & pinning ceremony, and my Commencement. Though I am so disappointed to not be able to participate in the many events that I have been looking forward to for four years, it is important to remember that the health and safety of the public comes first.
Are there things you have learned during this time that you don't think you would have learned if there wasn't a pandemic?
Through this experience, I've learned a lot of important lessons. Firstly, I'm lucky to have already been densely educated on disease spread and transmission, so I was already familiar with the proper precautions that we have been instructed to take. Working during the pandemic has been the most interesting experience. I've learned that running out of supplies is possible (a concept that I never imagined could happen). One of the hardest lessons I've learned is being conservative with the use of masks (which typically are single-use products). I've caught myself almost throwing my mask away countless times and am now getting used to keeping it on my face for the whole shift. I'm hoping that these lessons will be carried with us so when the next pandemic happens, we can be better prepared.
Today would have been your graduation ceremony! Congratulations!
Thank you! It's hard to believe that this day has come already, I would have never imagined that a worldwide pandemic would have impeded on my final months of college. A big thanks to my mom and dad for giving me the opportunity to attend such a great university.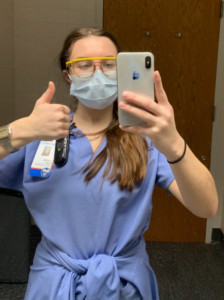 Now more than ever, we must acknowledge the role that healthcare providers play in the overall health and safety of everyone, not just during a pandemic, but every single day. During National Nurse's Week. we at eMedApps want to take our hats off and send a special thank you to all the nurses!