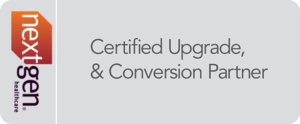 Why hire one part-time, in-house IT support resource when you can leverage the power of an entire team of NextGen certified EHR experts? Our team will either partner with your internal resources or become your dedicated staff to keep your systems running at peak efficiency.
As a NextGen EHR Certified Partner since 2001, our help desk is managed by a team of NextGen certified professionals. Our team offers ongoing optimization, maintenance, management, upgrades, and comprehensive support for your software, hardware, and networks.

Centricity™ Electronic Medical Record (EMR) users can now take advantage of CareFinity, an endorsed downtime solution. eMedApps' partnership with athenahealth will provide customers with an efficient and innovative contingency solution that allows clinicians, schedulers, and administrative staff to securely access stored patient information from any device – including mobile devices – whether their EMR is available or not. The versatile, browser-based application delivers all the data, images, results, notes, financials, and documents needed and allows users to document visits without resorting to paper.